Admissions
Primary Admissions

For Reception Admissions, please click here
Parents/guardians wishing to apply for a school place should contact Brent Council school admissions service. The council will review your application and inform you of the outcome.
The easiest way to apply is through the Brent Council website.
Alternatively, you can contact the School Admissions team on 0208 937 3110, available Monday-Friday between 9am-5pm.
For more information, please see the Brent Council guide to applying for primary schools 2021/22. READ HERE
SEN Admissions Children with Statements and EHCPs
All governing bodies are required by section 324 of the Education Act 1996 to admit to the school a child with a statement of special education needs that names the school. Under section 37 of the Children and Families Act 2014 the school named in an Education, Health and Care Plan must admit the child. Schools must admit such children regardless of whether they have places available. Admission authorities must not imply in their published admission arrangements that they have discretion over the admission of children with statements of special educational needs or an EHCP. Children with EHCPs are not admitted through the admissions arrangements and are placed in schools through the EHCP process.
Children with SEN but no EHCP -It is not lawful for an admission authority to refuse admission to a child who has SEN, but has no EHCP, on the grounds of the child's challenging behaviour (except in very limited circumstances), or because it believes the child requires a statutory assessment or requires additional support. In line with the Equality Act 2010, children with disabilities are not to be treated less favourably than others in the admission process. A school should make reasonable adjustments to prevent discrimination.
Advice from Brent Council for children starting school for the first time.
If your child is due to start primary school and has a statement of special educational needs or an Education Health and Care (EHC) plan, the process of identifying an appropriate school to meet your child's needs is linked to their statement or EHC plan and will be made by our special educational needs assessment service (SENAS) in consultation with you.
You should not make an application for a primary school place yourself. If your child is in the process of being considered for an EHC plan you should apply in the normal way.
Apply for a primary or junior school place for September 2020
Children born between 1 September 2015 and 31 August 2016 who will start Reception class at a primary or infant school in September 2020.
Children born between 1 September 2012 and 31 August 2013 who currently attend an infant school and will transfer to junior school in September 2020.
How to apply
In Year Applications
You will need to make an in-year school application if either of the following apply to you:
Your child lives in Brent and does not currently have a school place
You wish to apply for a transfer to a school in Brent
You should only apply for a school place in a Brent school. For schools outside Brent please contact the Local Authority or the school directly for the application process.
For In-Year Applications, please click here
Appeals
Please contact Brent Council Appeals Service if you would like to appeal an application.
Nursery Admissions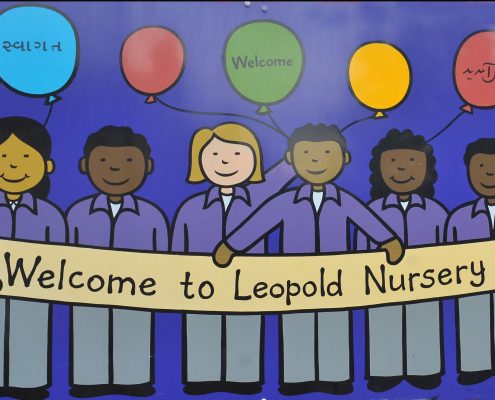 Leopold Primary School offers nursery facilities on the Hawkshead Road site. Please note: there is currently no nursery provision at the Gwenneth Rickus building.
The number of intended admissions for the year is 55 children. Full-time and part time places are currently offered. The fee for these places totals £60 a week.(30 hours) and is free for the first 15 hours.
The school admits one main September intake per year. Siblings may start in the January after their 3rd birthday at the discretion of the Headteacher.
Where applications for admission exceed the number of places available, the following criteria will be applied (in this order) to decide which children to admit:
Children in public care/looked after children
Children with siblings attending the school at the date of admission
Children who live geographically nearer to the school
Parents must fully complete the application forms, but in doing so, must realise that this does not lead to automatic transfer to reception class or to a guaranteed place in the school.
This admission policy endeavours to fulfil the above with fairness and equality for all children and families. Pupils will be admitted to nursery without reference to ability or aptitude.
Nursery applications may be obtained from the main school office at the Hawkshead Road site, and must be collected from School. The closing dates for nursery applications will be in January of each year.